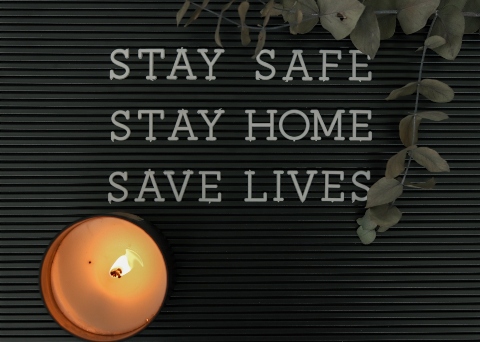 With the Coronavirus lockdown starting to bite, the effects on physical and mental wellbeing may be starting to be felt; claustrophobia, loneliness or a general feeling of anxiety may be symptoms of modern-day cabin fever. This may also have consequences for your relationships too.
To stave off these negative effects here is a list of 50 ways that you can keep yourself occupied so that you come out of this difficult and unprecedented time physically and mentally strong; perhaps even better than you went into it.
Read more novels for escapism. This might include the classics or the best selling books of all time.
Draw, paint or colour (it doesn't matter if you are not any good, you aren't opening an exhibition).
Become the star baker in your own home.
Phone those people you haven't spoken to in years but you've always meant to.
Do a daily crossword or other mental tests.
Clear out the attic and the cupboards.
Sort out all those old clothes and get them ready to go to a charity shop.
Binge-watch those box sets (now you have the perfect excuse!).
Go through all the photos on your phone or computer. Delete the rubbish ones and create physical photo books of the ones you treasure.
Do an online workout.
Write a book or a collection of short stories (you are not aiming for the Pulitzer prize and it doesn't matter if nobody reads it).
Meditate.
Write a journal about your thoughts and experiences or what you would teach a younger version of yourself. It would be a great tool for your children, grandchildren, nieces and nephews.
Write down a list of promises that you will start doing/stop doing/be grateful for when the world is back to normal.
Learn a language.
Talk more to your partner. Find out things you never knew about them or how they are feeling right now.
Study other religions and philosophies.
Try the toilet roll challenge (search for it on YouTube if you have no idea what this is about!).
Write a short guide about your area of expertise that will be of benefit to the younger generation (you could do it as a series of articles or videos). What are the most important or valuable things they need to know?
Review your savings. Are you getting the best return?
Write to a neighbour who you've hardly spoken to and get to know them.
Give the house a good spring clean.
Write a list of all the things that are most important to you. Are you living a life that is consistent with them?
Consider what your ideal retirement looks like and what you need to achieve it.
Use the time as a reason to let go of any anger, bitterness or resentment to anyone or anything.
Write a song or poem.
Renew your wedding vows even if it is only the two of you that hear them.
Make a list of all the things that you have enjoyed from this forced change that you commit to keep doing when we are free again.
Plan, prepare and enjoy a 3 course meal for whoever is in the house (even if it is just you).
Learn to juggle.
Watch some of your favourite comedies on YouTube or Netflix. After all, laughter is the best medicine.
Answer the following three questions (courtesy of George Kinder):

Imagine you are financially secure, that you have enough money to take care of your needs, now and in the future. How would you live your life? Would you change anything? Let yourself go. Don't hold back on your dreams. Describe a life that is complete and richly yours.
Now imagine that you visit your doctor, who tells you that you have only 5-10 years to live. You won't ever feel sick, but you will have no notice of the moment of your death. What will you do in the time you have remaining? Will you change your life and how will you do it? (Note that this question does not assume unlimited funds.)
Finally, imagine that your doctor shocks you with the news that you only have 24 hours to live. Notice what feelings arise as you confront your very real mortality. Ask yourself: What did you miss? Who did you not get to be? What did you not get to do?

Alphabetise your music collection.
Doodle aimlessly (it's meditative).
Find podcasts covering your hobbies and interests or topics that are new to you.
Sit in the garden or listen through an open window to the sounds of spring. There is a wealth of research that shows a connection to nature is good for mental wellbeing.
Dust down that musical instrument you haven't played for years.
Write a list of all the things you are grateful for.
Write a list of the things that you wish you could now, but can't and commit to doing, and be grateful for them when life returns to normal.
Start to plan that once in a lifetime trip you've always wanted to take.
Find ways to re-light the fire in a relationship (if you get my drift, but take care! 🙂 )
Any links contained on this page are not affiliates, I receive no benefit for linking to them nor control the content.
Photo by Sandie Clarke on Unsplash